PRINCIPAL
Vinita Saxena
Noble International School, established in 2003, is one of the leading Govt. recognized secondary schools in Rajasthan. The school plays a pivotal role in shaping the character and developing the personality of the students.
NIS aims at providing quality education to its students in an environment conducive to nature. Ever since its inception, NIS has been working hard to inculcate strong values in its students, helping them to tide over the trial and tribulation of life. We live in information driven world and the development in technology is changing the world scenario.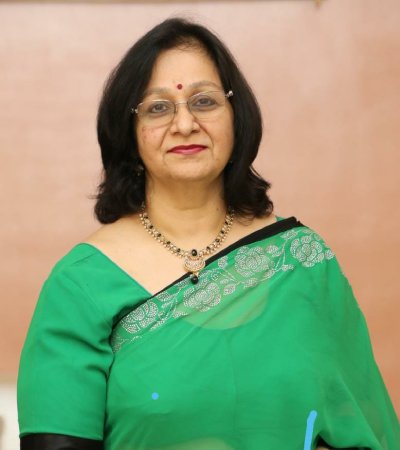 We have formulated a strong academic syllabus coupled with numerous scholastic and inter- scholastic activities. Through programs such as value-based assemblies, club activities, functions and celebrations, fine and performing arts, technical education, athletics, sports and games etc., we focus on providing to students wonderful opportunities to develop their skills.
With the advent of new technology i.e. TV, Internet, Mobile phones, and the resultant social media, the obvious trend amongst the new generation is in quickly align to the modern trends to the point of getting addicted to them. The good old habits of reading a book are taking a back seat. The need for quick gratification is increasing and resultantly the concentration span required for reading, and assimilating a book is gradually plummeting. Students; nowadays are no more attracted to the good old proven chalk and duster methods, they more often than not are living in the virtual world. There is therefore a need for updating our teaching methodology in line with the current technology to involve and peg the education at the level which is best understood by the current generation. The answer to bridging the gap lies in creating a smart classroom and using multimedia to explain a concept that is more likely to find; takers amongst the students.
We at NIS strive to provide education through the use of modern audio-visual aids, thereby creating a congenial atmosphere for teaching-learning. Right from the beginners level students are involved in the learning process by way of various activities and play-way methods. No wonder our school is a favorite among the parents who want their children to study in one of the best English medium schools.