WELCOME TO
Noble International School
At NIS we believe that Education is not only a tool to achieve professional milestones but also a means to make life better. Hence, we strive towards promoting individuality through value based education, which promotes a global outlook yet retains intrinsic Indian cultural traditions. .
Here children are not just given wings, but the school also ensures that they develop strong roots. Most importantly, children are loved and made to feel cherished so that they approach life with a positive attitude.
At NIS we aspire to provide not only an academic education of a high standard, but also create an environment which encourages the development of each individual's intrinsic and inherent talent and nurturing of a person as a whole.
FIND OUT MORE
K.M Jindal
Managing Director
We appreciate your decision of choosing Noble International School as the nurturer of your child. The school, as the name expounds, keeps the focus and energy in creating a noble human being in our every student.
VIEW PROFILE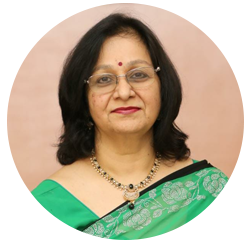 Vinita Saxena
Principal
Noble International School, established in 2003, is one of the leading secondary school in Rajasthan. The School plays a pivotal role in shaping the character and developing the personality of the students.
---
VIEW PROFILE
Sudha Dhanopiya
Vice Principal
Life isn't about getting & having, it's about giving & being noble, NIS does it. We make your child ready for future and a confident citizen to represent his family and country with honor. We assure & aspire to bring.
---
VIEW PROFILE 
OUR MISSION
To create a student friendly learning environment with innovative learning practices that generates curiosity in students.
To create opportunities for students to become confident thinking individuals.
To build a love for learning in the students that lasts a long time.
Acquire keenness in sports and appreciation of the same through multifarious activities.
OUR VISION
To be a premier professionally managed institution that provides an environment that nurtures excellence, holistic growth and prepares students for a knowledge driven society and a global economy by developing life-long learning skills.
To achieve academic excellence through a scientifically planned curriculum and assessment system. Build competencies through participation in competitions, various cultural and literary activities.
---
FEEDBACK
Testimonials
One of the best school so far. I was one of the Alumni of this school studies here till 10th in 2013. It is RBSE affiliated though good and nice school for your children. Though it requires some reforms in working, staff here is supportive and nice.
Geetanshu Jain
The faculty is very good and so professional. Best CBSE School in Udaipur. It is very good school. There is good teachings. Thanks For Your Support.This is one of the best English Medium School in Udaipur.
Priyanka jain